Beppu is home to a number of jigoku (hells or hot springs), the most popular of which is Blood Pond Jigoku. As the name implies, Blood Pond Jigoku, with its steaming blood-red water, is very impressive. 
What is Blood Pond Jigoku?
Blood Pond Jigoku is the oldest natural hell in Japan. A naturally occurring chemical reaction takes place in a high temperature and pressure environment deep underground which causes iron oxide and magnesium oxide to mix. This mixing forms the red, hot mud which gets pushed to the surface and turns the whole pond red. 
Even now, approximately 1,800 kiloliters of hot water gushes out of the pond daily, and the resulting steam rises steadily throughout the year. Blood Pond Jigoku is also unique in that it is larger than other jigoku, covering an area of about 1,300 square meters and is more than 30 meters deep.
Visit Blood Pond Jigoku!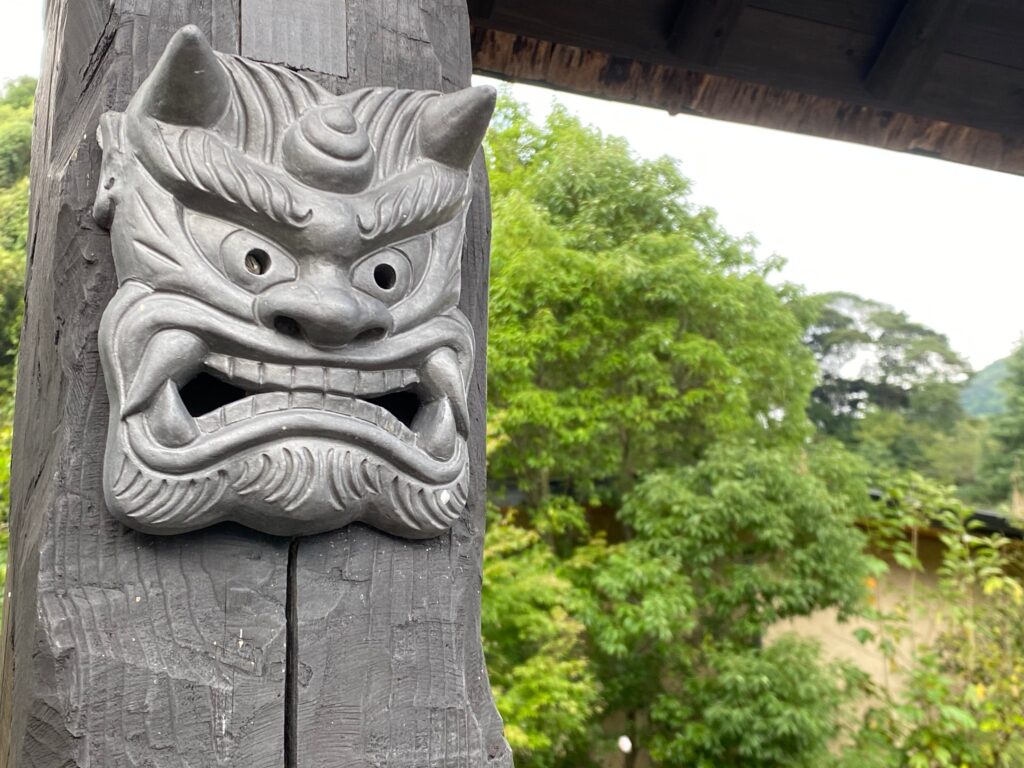 When you arrive at Blood Pond Jigoku, you will find demons everywhere! Demon decorative details such as this one add to the "hellish" feel of this unique place.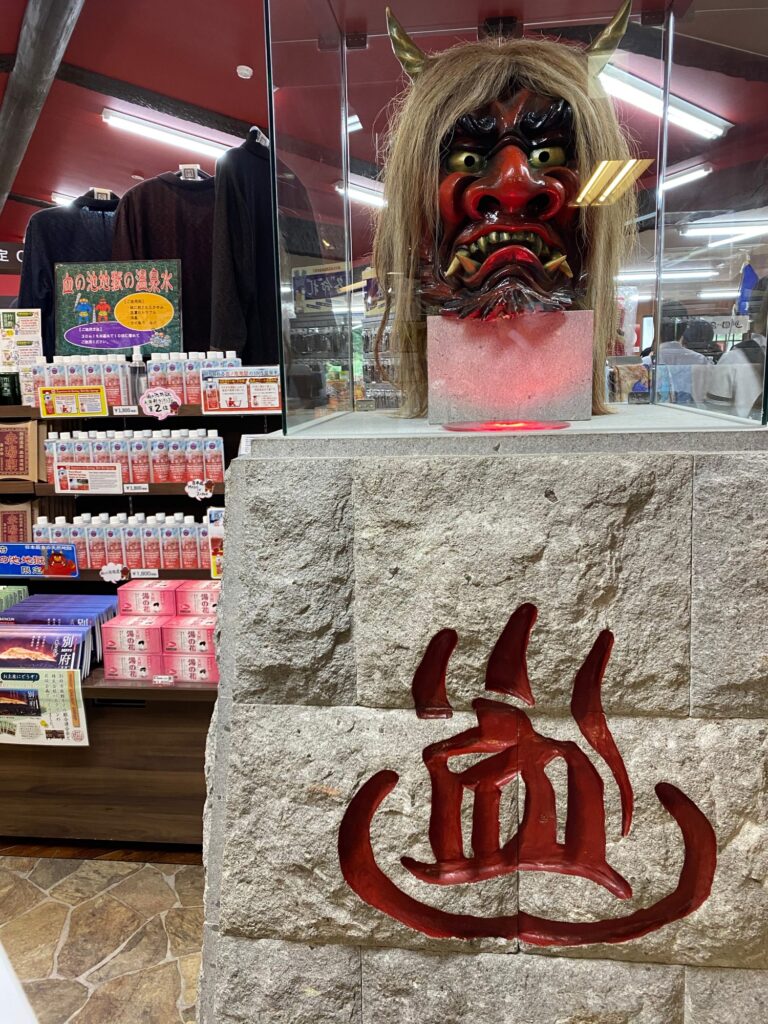 Further inside is the entrance to the jigoku, and as we entered, we saw another demon face. Pictured above is the souvenir shop, but I was still a bit surprised to see this! 
Further on, you will finally see the Blood Pond Jigoku bubbling away.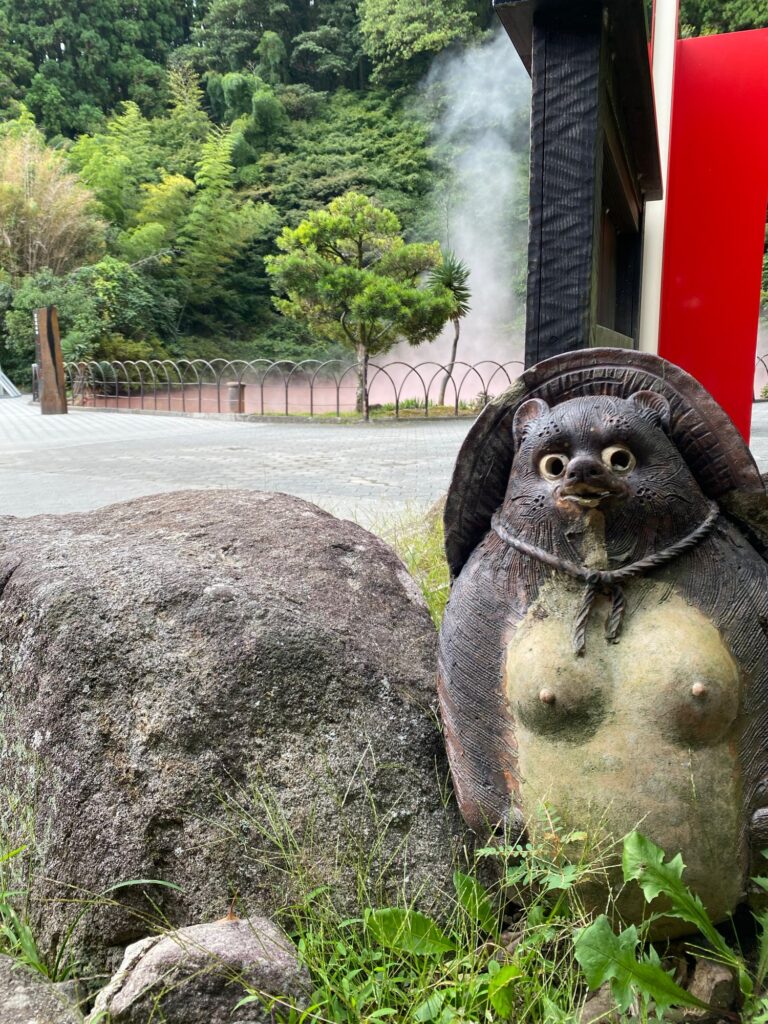 We were also greeted by a statue of a mischievous-looking raccoon-like creature called a tanuki. I admit that I was a little freaked out by the name, Blood Pond Jigoku, and the series of demon faces I encountered, but this little fellow brought some welcome relief.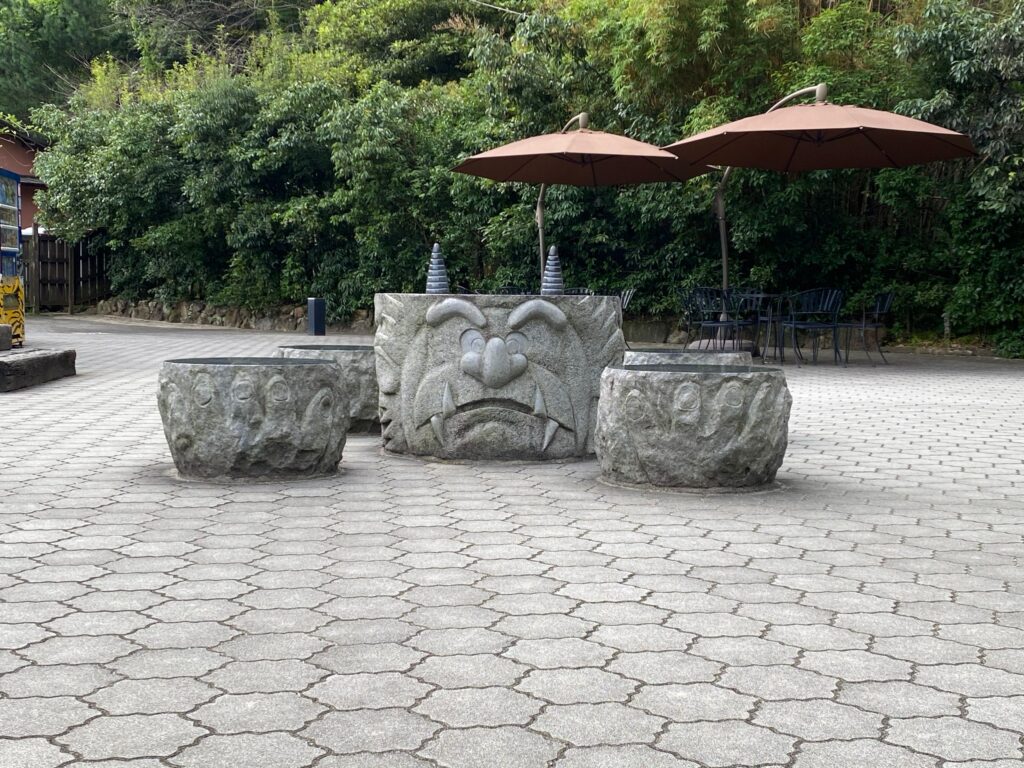 There are even statues of demons on the premises!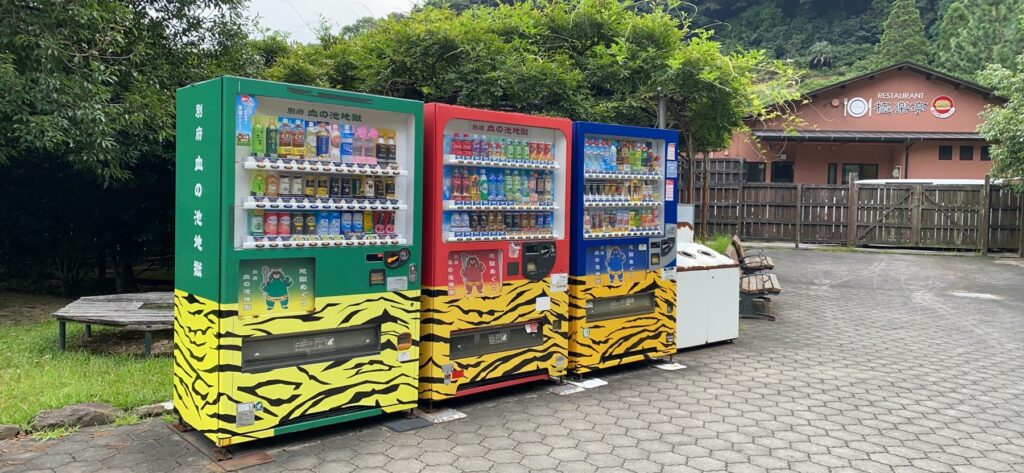 Even the vending machines have a rather demonic look to them; although these are rather cute! 
Near Blood Pond Jigoku is a stall selling the famous Blood Pond Ointment.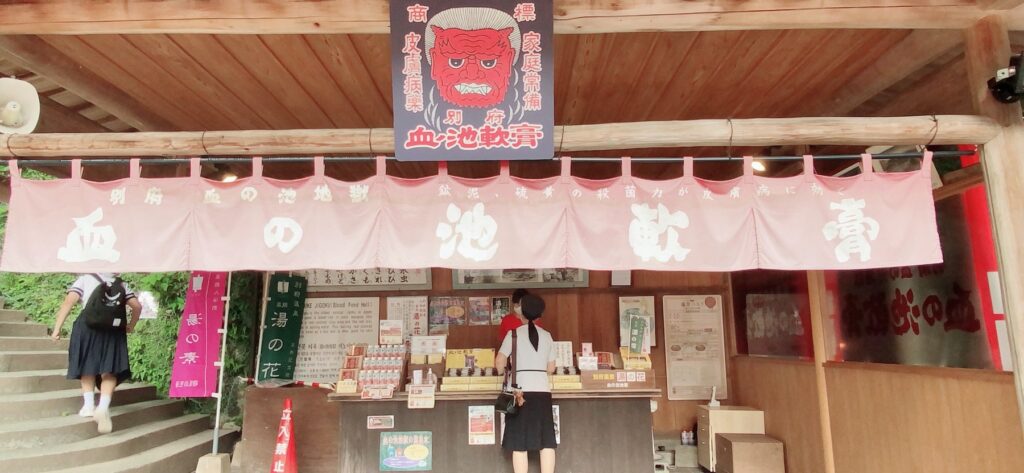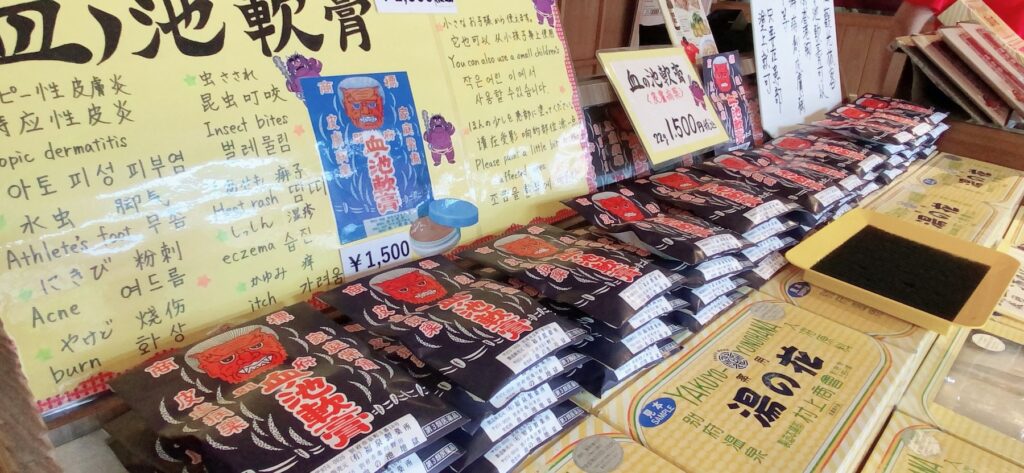 Blood Pond Ointment is a natural ointment made from the mud of the Blood Pond Hell. It has been used since ancient times and was used to treat soldiers' wounds during the war.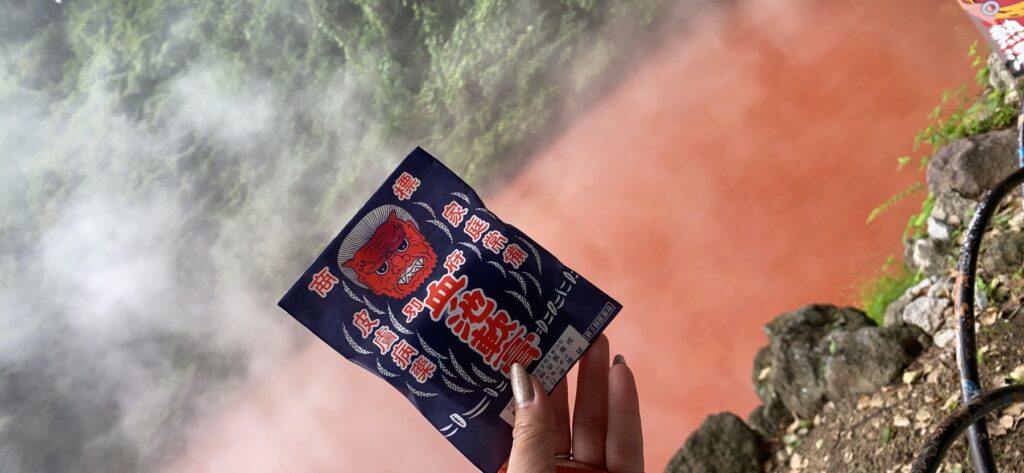 The magnesium sulfate in the mud is said to be good for chronic skin diseases and has been used for a variety of conditions such as frostbite, burns, cracks, and chapped skin.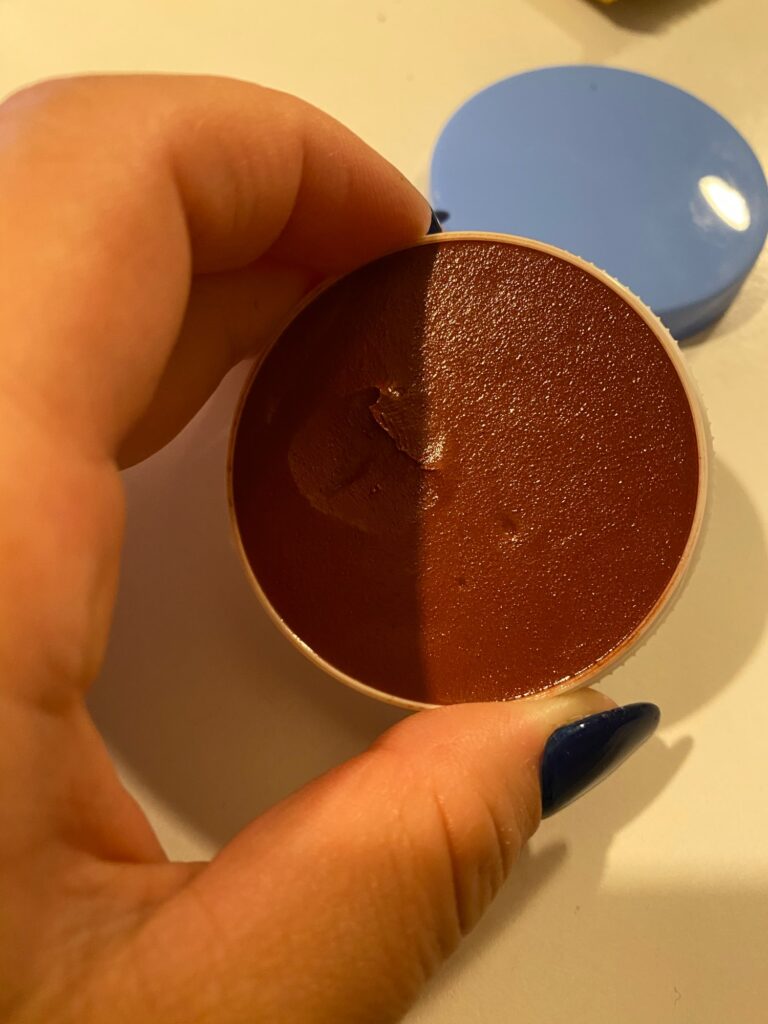 When you open the lid, a unique burnt smell emerges. The ointment is the same deep red as the mud of Blood Pond Jigoku.
I applied it to a spot on my skin that had been bothering me and was surprised to find that the itching lessened the next day. The price is 1,500 yen for one. If it hardens, you can put the container in hot water and let it soften so you can use it again. It's very cost-effective.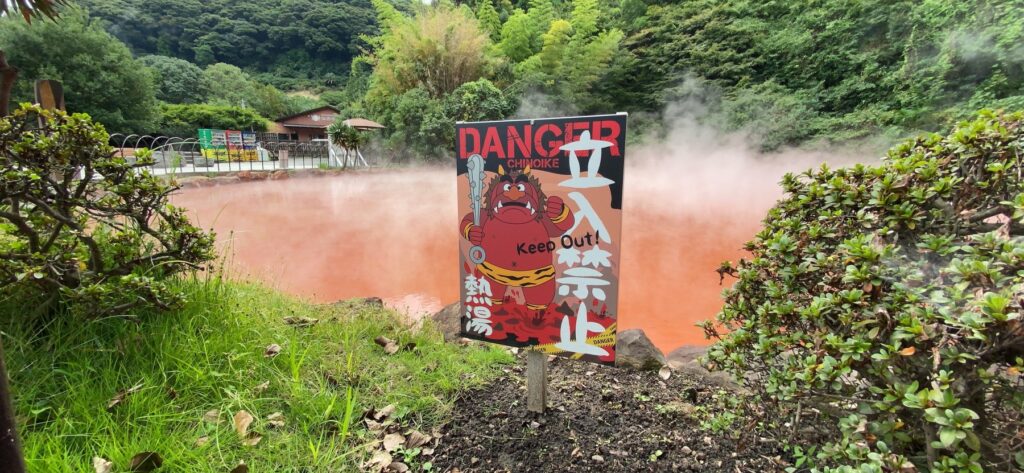 If you go all the way through to the back of Blood Pond Jigoku, a staircase will take you to a viewpoint looking back over the pond. From here, you can also feel the steam coming off the pond. It is really powerful.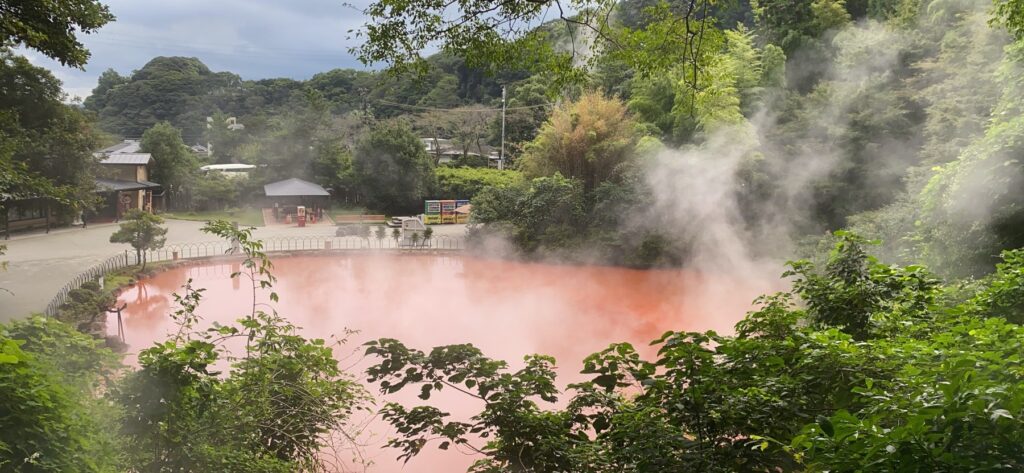 The bright red pond, which does not look like a natural one, is worth a visit. You can experience the mystery of nature.
Blood Pond Hell: Basic Information
Hours: 8:00-17:00
Address: Oita, Beppu City, Noda 778
Website: https://chinoike.com/
Comments are closed.